Archipelago Competence Game
Evaluating competencies in defining and achieving goals, systems thinking, and client orientation
In Archipelago Competence Game, the player assumes the role of a real estate agent.
But not any real estate agent! Their job is to rent luxury estates on an exotic archipelago somewhere in the Pacific. To succeed, they need to continuously expand their client base, maintain client satisfaction and skillfully tailor their offers.
Clients are demanding. They come from different countries, work different jobs, have different relationship statuses. The titular archipelago is home to rally racers from Monaco, models from Andorra, and Guyanese VIPs with a mysterious past. They all have their individual preferences and understanding these is the key to success.  
Luckily, real estate agents have their methods. Direct contact with clients, market research and marketing are just some of the tools available to the player. None of these many options would be enough, however, without the most important factor: the player's competencies. To do their job well, they need to excel at defining and achieving goals, systems thinking, and client-orientation.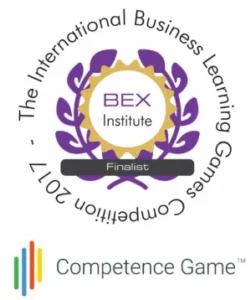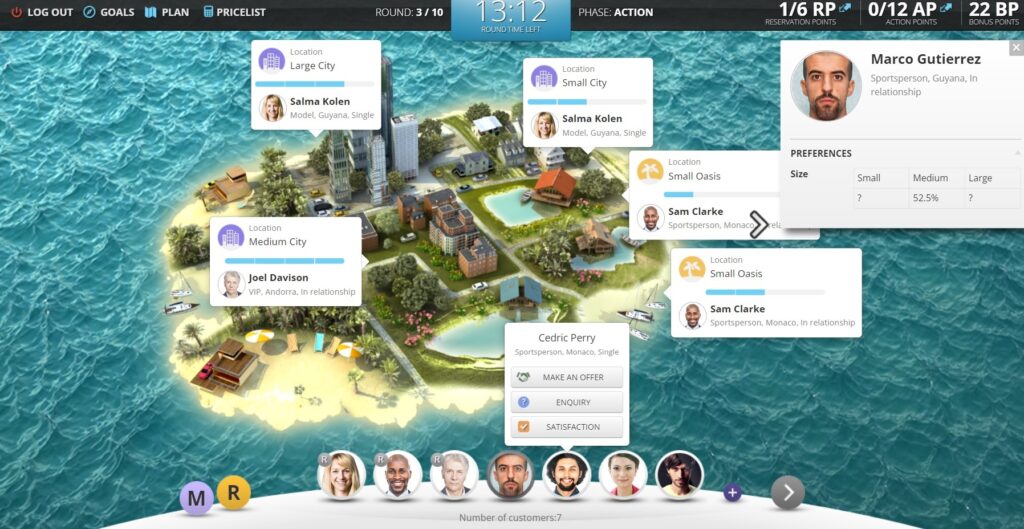 Measuring competencies with
Archipelago Competence Game
Instead of the final results, the game's algorithm focuses on tracking each player's behavior throughout the game.
This allows for a reliable evaluation of as many as 12 competencies grouped in 3 areas:

A complete understanding of one's goals and taking steps to their realization in the most efficient manner possible.
Understanding of one's goals

Making and executing plans based on goals

Working towards goals with resilience and determination

Realistically assessing progress towards goals

Big picture thinking based on prompt information sourcing, analyzing facts logically and establishing how they connect in a broader context.
Making consistent and rational decisions.
Noticing dependencies, drawing conclusions, making rational decisions

Asking questions, seeking knowledge, striving for a better understanding of a given situation

Proactive approach

Considering multiple timelines, taking actions based on the analysis of short- and long-term effects

 

Focusing on client wishes and requirements and being communicative. Acquiring information from multiple sources, monitoring client needs and responding to them.
Seeking and updating market knowledge

Researching and clarifying client needs

Meeting client needs

A positive attitude towards clients, responsibility for their satisfaction, willingness to cooperate.
Looking for these competencies in your employees?

Ready to get started?
Just fill in the form and we'll reach out to you.

(c) Salander Sp.z.o.o, ul. Puławska 39/61, Warsaw | Info@competencegame.com